Wolseley PRO Pipeline Blog
In any business – and especially trades like plumbing and HVAC – time is money. When your business depends on billable hours and getting the job done on schedule, efficiency on the job, and in the pre- and post-job tasks, is critical. Simple factors that add unnecessary time to jobs could be affecting your bottom line.
Here are four common time-wasters in plumbing and HVAC and how to remedy them:
1. Pre-job planning
On a typical day, workers don't spend 100% of their time on the job. Pre- and post-job tasks can take up to an estimated 35% of the day. One of the best ways to optimize your crews' time on the job is pre-planning. Map out a job in detail in advance, including details on how the job will get done, a labour schedule with deadlines, any required permits, and even directions and important contact information.
It's also a good idea to create checklists for contractors to ensure they have everything they need before heading off to a job. This is especially helpful for service businesses, to avoid your crew members having to waste valuable time driving back to the shop for something they forgot.
Make sure you communicate the job plan with all your key players, and even ask for feedback, in advance. This will help you streamline the project, ensure clarity across the team and cut down time spent on activities including collecting and transporting materials, delegating tasks and more.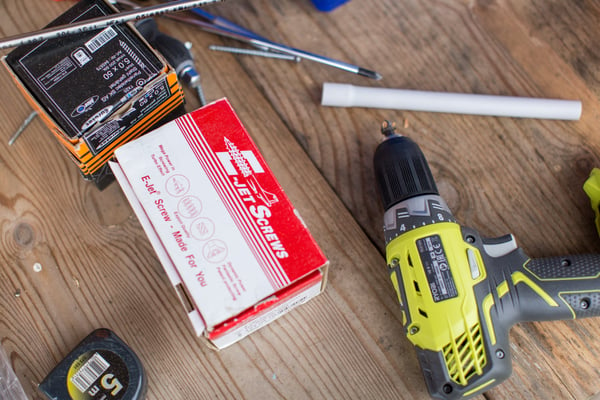 2. Searching for tools
How much time does your crew waste looking for stuff? It's estimated that workers spend an average of 90 minutes a day looking for items and information. When you consider multiple workers wasting that much time every single day, that can result in thousands of billable hours lost each year. When it comes to tools, workers can waste significant time searching for the right tool or even leaving the site to get the right tool. Some estimate that improving tool management can cut labour costs by 10%.
Here are some tips to reduce the time spent searching for tools:
Organize your shop and work van with a consistent storage system so workers can easily find tools and supplies. Learn more about organizing your work van here.
Keep track of your tools and equipment by including them as part of your inventory system. Check out tips for managing inventory here.
Communicate what tools will be needed and instructions for use in your pre-job planning.
3. Purchasing parts and equipment
Ordering supplies can take up valuable time better spent on site. Did you know you can save significant time by ordering supplies online?
Wolseley Express allows you to shop online using any device, anywhere, anytime. You can shop after hours and opt to either pick up your order at the branch or have it delivered to the job site. You can also check stock availability at your branch, order frequently-purchased items on the go, and more. This can help you boost productivity on the job.
Learn more about saving time and money by ordering supplies online here.
4. Job site delays
Delays including waiting for materials and workplace environment are all situations that hinder productivity. When it comes to material delays, clear communication and pre-job planning can be a big help. Ordering online can be one way to avoid material delays – either order in advance or take advantage of Wolseley Express' Express Pick-Up feature. When shopping during business hours, the Express Pick-Up feature will allow you to have your same-day order ready for pickup in 60 minutes.
If something does come up, have a clear plan in place to minimize downtime by giving your crew direction on what to do to in case of delays. This can include work that doesn't depend on a material delivery and contact information for the delivery person so a crew member can call them and get an updated ETA. You can also cut down on setup time by planning what you need the day before or in the morning before travelling to the site.
Workplace environment can also play a part in job site efficiency. Proactively keeping the workplace clean and clear helps your crew stay safe, avoid accidents and unnecessary delays. Make sure to keep walking and working spaces clear, have a plan for waste disposal, clean up any spills and wet floors, remove and properly store tools and equipment when not in use, etc.
---
By planning in advance, creating and implementing proper procedures and organization systems, and ordering supplies online, you can reduce wasted time from start to end of a job. Plus, you'll cut down on job costs!
Get more tips, promotions and news straight to your inbox. Sign up to become a Wolseley PRO here.