Wolseley PRO Pipeline Blog
Consumer trends change constantly, but one thing that remains consistent is the interest in renovating and updating bathroom spaces. If you're currently working with residential customers who are interested in redesigning their space, it pays to focus on the shower system.
If homeowners are renovating with a plan to remain in their homes, the bathroom should get some special attention. Families spend a significant amount of time in there, getting ready for a busy day or winding down before bed. Why not take advantage of the space?
Put Your Focus on Shower Systems
While some homeowners may be ready to do away with their tubs, the shower is one bathroom fixture most consumers can't live without. The bathroom, and the shower system in particular, is an area with lots of options for upgrades and add-ons. From steam showers to music and lighting, homeowners are looking for ideas to create an oasis. It's a way to have a getaway in their own homes.
Whether they're starting their day or washing off the stress of the day, the shower offers a place to relax and rejuvenate. By separating the tub from the shower, you can create a great soaking experience for the adults who want a reprieve from the day or after playing sports. It's also a spot for creating family time with young kids.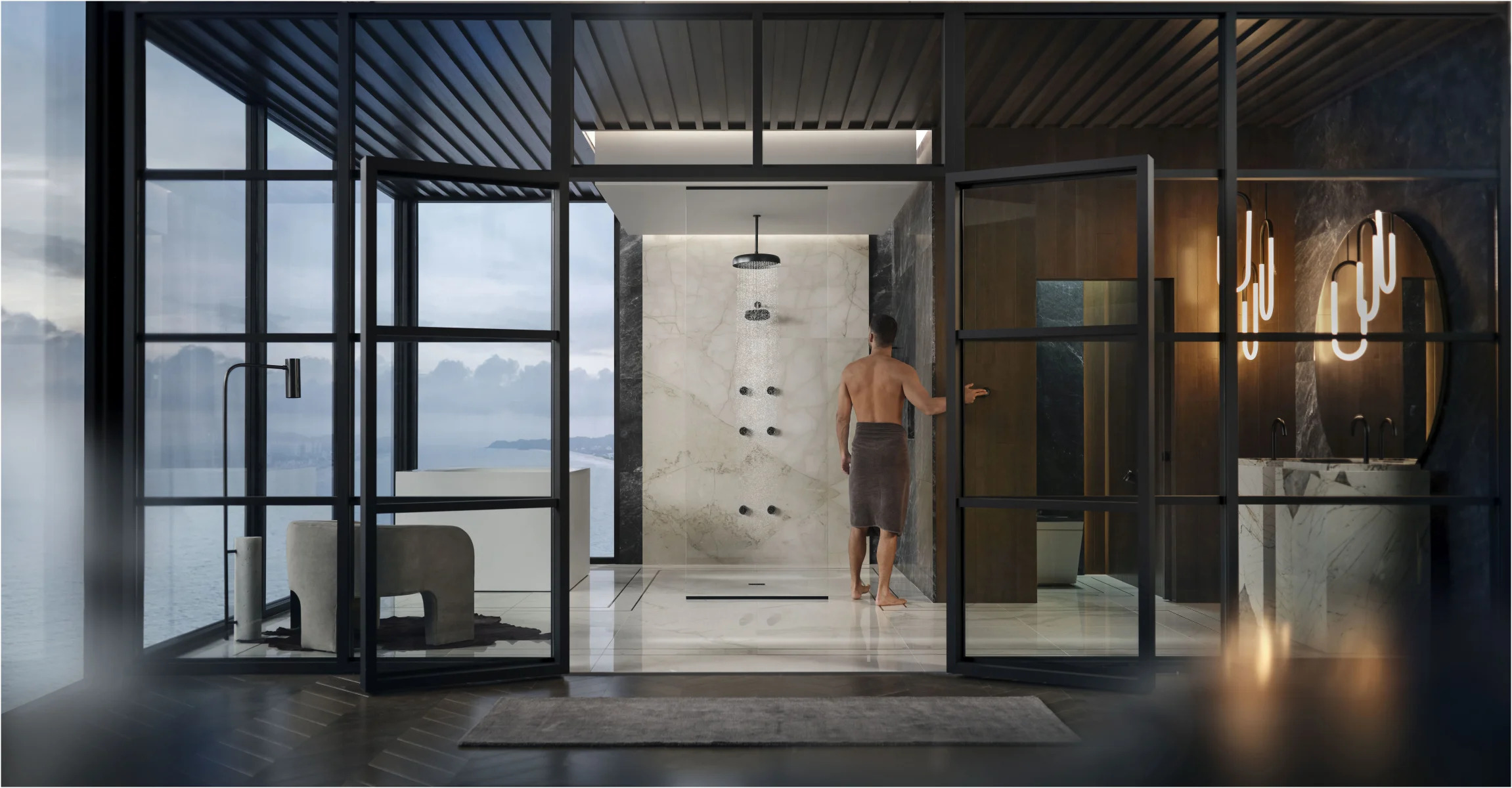 Going Digital: A Shower Built for Today's Needs and Tomorrow's Future
With so many great choices, homeowners may not be ready to make all the changes at once. That's where digital shower systems can make a big difference. Smart technology and touchless technology are making it easier than ever for homeowners to make decisions for today with options to change their system in the future. New lines available today include shower systems that connect to control panels and apps that can even be controlled with voice commands.
Start with a system you know will be reliable. Start with a manufacturer like KOHLER. By focusing on the user's experience, KOHLER built their digital systems to enhance the overall shower experience and integrated options like lighting, music, steam, flow control and temperature control into their digital products. The KOHLER digital valves simply plug in to a GFCI breaker.
Installing a Digital Shower System
The user control centres are designed for wet spaces and are fully potted to prevent electrical issues. The shower valves connect to the user control centre with a simple Telephone or Ethernet cable. In this case, a user can access the controls from outside of the shower and set up for the shower without needing to be in the bathroom.
Customers who may not be ready for a full touchscreen experience can opt for push button or rotary controls that feel more like a manual experience but offer the flexibility of adding features in the future.
For example, the customer can start with a basic shower set up. In the future, they may want to add music with a Bluetooth amplifier wired to speakers. Lighting control or exhaust fan control can be another future option. The system also fully integrates with the KOHLER Invigoration Steam Generator to add steam.
How Installing a Digital Shower System Helps Your Business
A complete shower system is a way to guarantee future business with a customer. All you need to do is arrange an annual service check after the initial installation to check in on performance, but also discuss any new innovations or upgrades with the customer based on the system they have.
It's a great way to generate more revenue, increase your business, stay in touch with customers, and establish yourself as a leader in cutting edge plumbing technology.

Increased Efficiency in Installation
KOHLER digital systems are designed for simplified installation, saving you time and money on the job. In fact, KOHLER conducted time studies to compare digital valve versus mechanical valve installation. They found that contractors were able to save 50-60% of their install time with the digital valves saving hundreds of dollars or more on installation.
Typical installation with mechanical valves includes multiple valves, transfer/diverter valves or thermostatic & volume control valves which all need to be connected and then checked for leaks before the shower trim is added. This adds hours of additional labor costs, more shower trims and controls on the walls, reduces overall space for items like shower niches and means the installer has repeat trips to the job site.
With digital valves, the installation is simplified because the installer runs components directly from the valve outlet right to that showerhead, rain head, body spray, and other accessories. The valves are quick and easy to install in an accessible space and require a simple 15 am three-prong outlet for power. It's literally a plug and play.
The system is also designed to be accessible so it's easy to go back and service or upgrade in the future. KOHLER digital valves can be installed in a basement or a closet with a simple access panel. It doesn't have to be directly in the shower like a manual or mechanical valve does.
A Shower Solution is Accessible for all Budgets
Digital showers are offered at different price points, from entry level, up to high end, making it easy for anyone to have a digital shower in their home. A perk to digital systems is that they are less costly over time than mechanical shower products. With fewer valves and trims, the installation cost comes down, and any subsequent renovations are less of a challenge. Effectively, you can offer customers a cleaner looking shower with less trim on the wall, more features, a better experience, and more features than they currently get with a mechanical system.
And then there are the environmental benefits. Customers can adjust the flow to reduce the amount of water they use. For example, if the current flow in a rain head is 1.75 - 2.5 gallons per minute, the user can adjust the water flow down on specific systems and save water, but still have a great experience.
Wolseley is proud to have KOHLER Canada in our national distribution portfolio of kitchen and bathroom brands. Talk to your Wolseley representative about the options for digital showers and the Kohler products available in branches nationwide and online through Wolseley Express.
---
To get all the latest news about shower and bathroom innovations, be sure to sign up and become a Wolseley PRO. You'll get the latest tips, promotions and more sent straight to your inbox. If you want to learn more about products, training and upcoming webinars from products Wolseley carries, visit the Knowledge Hub.
To learn about the hottest deals, events and Wolseley promotions, subscribe to our e-mail list today.