Wolseley PRO Pipeline Blog
As a contractor, you take pride in the quality of your work. And you operate on the idea that if you work hard and do well for your clients, they'll come running back, right? Not necessarily.
Hard work may be enough to satisfy your customers the first time around, but it's not enough to set your company apart from the competition. You need to "wow" your customers and stand apart from the crowd with exceptional customer service.
Good customer service has always been important in word-of-mouth reviews but it has become especially important in a world dominated by online reviews. In a matter of seconds, a potential customer can search for your company and find reviews of your customer service. Follow this customer service advice and you're sure to see an improvement in your reviews and return business.
7 Key Customer Service Tips for Service Calls
1. Service with a smile
No matter how frustrating or uneventful your day was, smile. A smile is easy and incredibly simple, plus it goes a long way in making a positive experience for your customers. Not only do smiles make you approachable, but they also make your customers feel welcome and encourage them to come back for another positive experience. After all, a smile is contagious.
2. Be reachable
With today's technology, customers expect quick response times. Always make the effort to answer your emails and texts within a reasonable time and to call your customers back right away if you miss one of their calls. If your customers are reaching out to you, they're doing so for a reason. Let them depend on you and your services by being reachable at all times.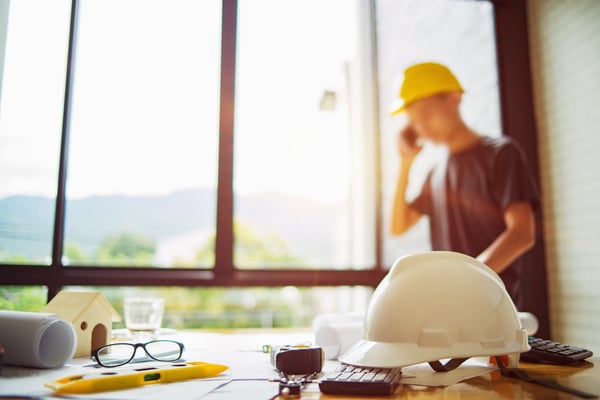 3. Use a work phone line and company email
Using a personal phone or email to communicate with customers can be confusing, and can come off as unprofessional and sloppy. You want your company to have a strong identity, and that means showing up on customer's caller IDs and in their email inboxes with a professional title. This gives your company credibility and makes it easy for you to identify when you're answering a personal call or a business one.
4. Wear a uniform
Along with work phone lines and company emails, uniforms create a brand identity. Imagine if an off-duty police officer pulled you over, while wearing their regular clothing. It'd be confusing and off-putting. The same thing goes for contractors. Choose a uniform as simple as a shirt with your company logo on it, you don't need anything crazy. Showing up to service calls in a uniform lets customers know what you're there for and that you're a credible company.
5. Keep your workspace clean
Remember, you're working in another person's home. Keeping your workspace clean means keeping their space clean. Your customers will be grateful that you didn't create a mess for them to have to deal with later. You are in their home to fix a mess -- not create one.
6. Respect your customer's time
Just like you, your customers are busy people. When they have to get something fixed in their home, especially if it's unexpected, it's a major inconvenience for them. That's where you come in.
It's your job to fix the problem, and they're depending on you to do so quickly so that they can get back to living their everyday lives without worrying about their home. Remember, if you can't deliver fast service, your customers will find someone else who will.
7. Say thank you
Whether your customers brought you a coffee while you're working, opened the door for you, or even answered one of your questions, say thank you. Remember, your customer didn't have to choose your company to get the job done.
Be thankful they chose you and let them know that you appreciate their business. When a job is finished, thank your customers. This will leave things on a positive note. You can even encourage them to contact you again if anything comes up and ask them to refer you to their friends and family.
---
When you're interacting with potential and existing clients, it's important to put your best foot forward and make them feel valuable. With our customer service tips in hand, you will be better equipped to provide everyone you work with an exceptional experience.
If you would like business tips and advice straight to your inbox, be sure to become a Wolseley PRO.
Get exactly what you need for your plumbing or HVAC/R business. Shop for supplies online and manage your account with Wolseley Express or visit a Wolseley branch today.