Wolseley PRO Pipeline Blog
In today's modern world, technology is constantly developing to enhance our day-to-day lives. In industries like plumbing and HVAC, there's no shortage of cool tools for contractors to get the job done – that includes tech. Technological advancements are helping modern companies drive efficiencies, boost productivity and streamline processes. Here are six top tech trends for plumbing and HVAC contractors:
1. Cloud-Based Solutions
As a contractor, you're constantly on the go. Having your key documents confined by time and space – like on your computer or on paper – isn't realistic for many companies. Cloud-based programs that allow you to manage information on multiple, mobile devices, are becoming increasingly popular. Especially when you're working on a larger team or moving between multiple sites a day, reliable, real-time collaboration software is key.
Digital tools for various functions including inventory tracking, planning, invoicing and administration are helping contractors across North America streamline processes and improve communication.
2. Online Ordering
Online shopping is not a new concept. It has been widely accepted in the modern world. But for plumbing and HVAC contractors, ordering supplies online can be a major game changer when it comes to saving time and money.
With features like Express Pickup on Wolseley Express, where you can order online and pick it up at your branch in 60 minutes – why waste time waiting in line ever again? Other advantages of purchasing plumbing and HVAC supplies online are the opportunity to shop anywhere, from any device, at any time – even after hours – so you can spend more time at the job site. You can also view stock at your branch, order frequently-used products quickly on the go with the Lists tool and barcode solutions, and more. All features that help you cut costs, save time and boost productivity.
Learn more about the benefits of ordering supplies online here. Visit Wolseley Express to shop or register now and take advantage of all the business solutions available.
3. Wearable Tech
When we think wearable tech, the first things to come to mind are products designed for day-to-day use, like fitness trackers. But wearable tech is rising in almost every industry, and innovations designed to keep workers safe and boost efficiency are gaining traction in the plumbing and HVAC trades.
Wearable tech for contractors includes, but isn't limited to clothing, with heated jackets and cooling vests that keep workers comfortable in extreme conditions, all day long. Sensors that clip to waist-belts or self-charging smart work boots can track worker movement, as well as fatigue, hazards and more.
4. GPS Tracking Solutions
GPS tools are nothing new, but the ways they are being used are getting more creative and resourceful. From site surveying and data collection to fleet management and tool tracking, GPS solutions can be extremely helpful for contractors.
Equipping the vehicles in your fleet with tracking devices makes it easy for your team to see where each vehicle is on mobile devices. Another innovative use for GPS? Tool tracking. Milwaukee recently released their new Integrated Tool Tracking feature. Keep a virtual eye on your tools with their smartphone app, ONE-KEY.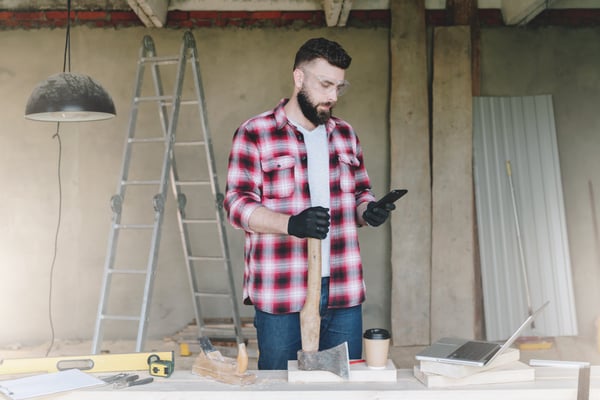 5. Smart Tools and Equipment
Connectivity is top of mind for many in the industry. Smart home connectivity is a major trend, with manufacturers like Honeywell offering apps that connect to your WiFi thermostat and allow you to remotely control settings.
But smart equipment doesn't stop at the homeowner. Tool and equipment manufacturers are following suit with their own apps for contractors. Grundfos, for instance, allows remote pump control, data collection and reporting via their apps. In addition to its tool tracking feature, Milwaukee's ONE-KEY app also offers theft protection, tool management, customization and reporting to streamline your productivity.
6. Augmented Reality
While virtual reality has some amazing uses in areas like training and safety, augmented reality is becoming increasingly valuable for contractors. AR can allow clients to see the vision for their new bathroom with photorealistic simulations of the finished products. Digital models are lifelike and interactive, allowing you to make changes as you go. This has the potential to greatly enhance the client experience in many ways.
AR has applications out of residential client-contractor relationships as well. It offers numerous possibilities in commercial and industrial projects as well. By allowing contractors visualize ideas in a simulated environment, instead of the real world, they can analyze and identify solutions in a new, more resource-efficient way.
---
Technology is always advancing – there's no telling what innovation will come out next. If it means helping build and enhance your business, new tech for contractors is always welcome.
How do you use technology in your plumbing or HVAC business? Tell us on Facebook!
Get more tips, promotions and news straight to your inbox. Sign up to become a Wolseley PRO here.