Wolseley PRO Pipeline Blog
Lochinvar has built a stellar reputation for boilers, water heaters, and water storage by maintaining an unwavering focus on engineering excellence, quality, and customer service. When it comes to heating water, nobody brings it all together like Lochinvar.
As we're deep into the heating season, it's great to have insights from Lochinvar. Product Managers, David George and Daniel Rettig, shared with Wolseley the latest news on their Armor condensing water heaters and Knight XL commercial boilers.
Achieving Efficiencies with the Armor Water Heater
"The Armor water heater is the leading commercial specified water heater in the nation," explains George. "It has an established commercial design, with a water heater and a separate water storage tank. Historically, all water heaters had large tanks of water that you heated directly. The separate water tank makes the unit much more efficient."
In fact, the Armor water heater offers the highest efficiency in the industry, with 98 – 99% thermal efficiency. This paired heater and storage tank system was first invented in 2007 and serves large demand settings where many gallons of water need to be heated quickly and efficiently. The Armor represents the third generation design for Lochinvar.
"In previous generations, the Armor product family topped out at 800,000 BTUs. For this third generation, we added a single heat exchanger, a touch screen display, and extra standard equipment. We were able to increase both efficiency and functionality. Now we get a range from 400,000 up to one million BTUs."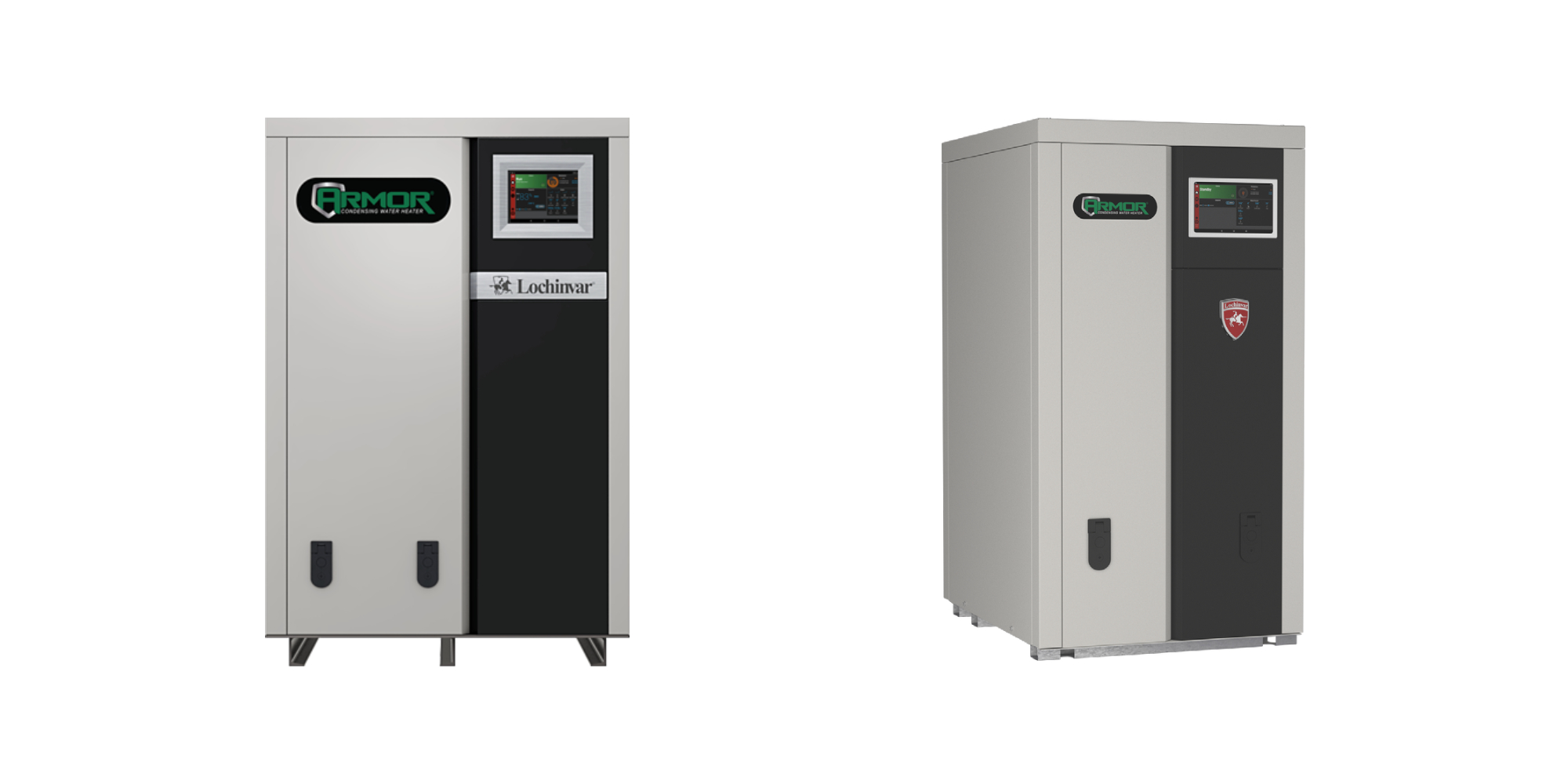 Shop Lochinvar Knight XL Boilers on Wolseley Express
Available in select regions only
The Knight XL Boiler Offers Efficiency and a Sleek Design
At the same time that Lochinvar was developing the Armor, they also produced the Knight XL 400. Both units share the same heat exchanger and smart touch control.
"There are a lot of similarities between these two products," says Rettig. "The Knight has been on the market since 2005, and we're also on the third generation of the product. We now have up to 97% thermal efficiency compared to our previous efficiency of 94%. That's a 3% increase. On turn down, we went from a five to one turn down to a 10 to one turn down. We doubled our turn down."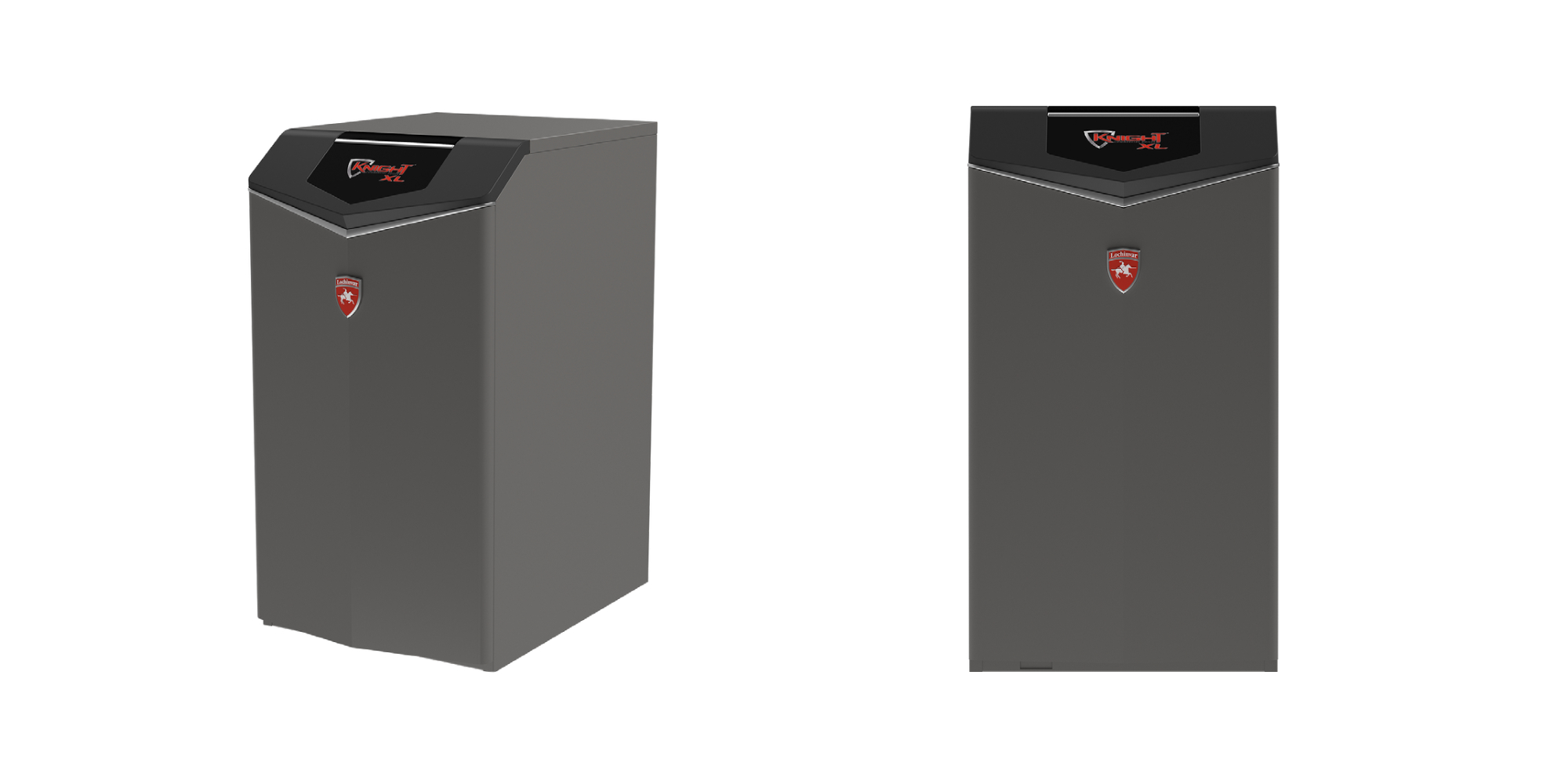 Shop Lochinvar Commercial Boilers and Knight XL on Wolseley Express
The increased efficiency and turn down allows the boiler to stay on longer and have fewer short cycles. The vent length also increased from 100 feet to 150 feet of vent—making it ideal for retrofits.
"That extra 50 feet will make a difference, especially in older buildings. In some of these places being retrofitted into multi-family buildings or just being repurposed, contractors run into lots of venting issues. It's not as much of a problem in new construction, but for the older retrofits, the additional 50 feet will come in handy. The product can also be commonly vented. So we can do up to eight units together with common venting."
Visually Impressive Design with Connectivity
On top of its efficiency, the Knight XL is an attractive unit.
"With this third generation, we really took it up a notch and changed the look. When you look at it, you'll still know it's a Lochinvar product and a Knight XL, but with a sleeker, more attractive design."
Additional enhancements include a touch screen with the Con-X-Us platform, which is Lochinvar's remote connectivity that allows the building managers and service people to communicate with the boiler through their smart device 24 hours a day.
"It works really well for customers who are in remote areas. In the past, a service person would have to travel three hours to get to the job, make a manual adjustment, and travel three hours to get back home. Now, they can sit on their sofa with Con-X-Us, make the necessary adjustments to the control on a boiler three hours away, and solve the customer's control problem in an instant. That's what Con-X-Us can do."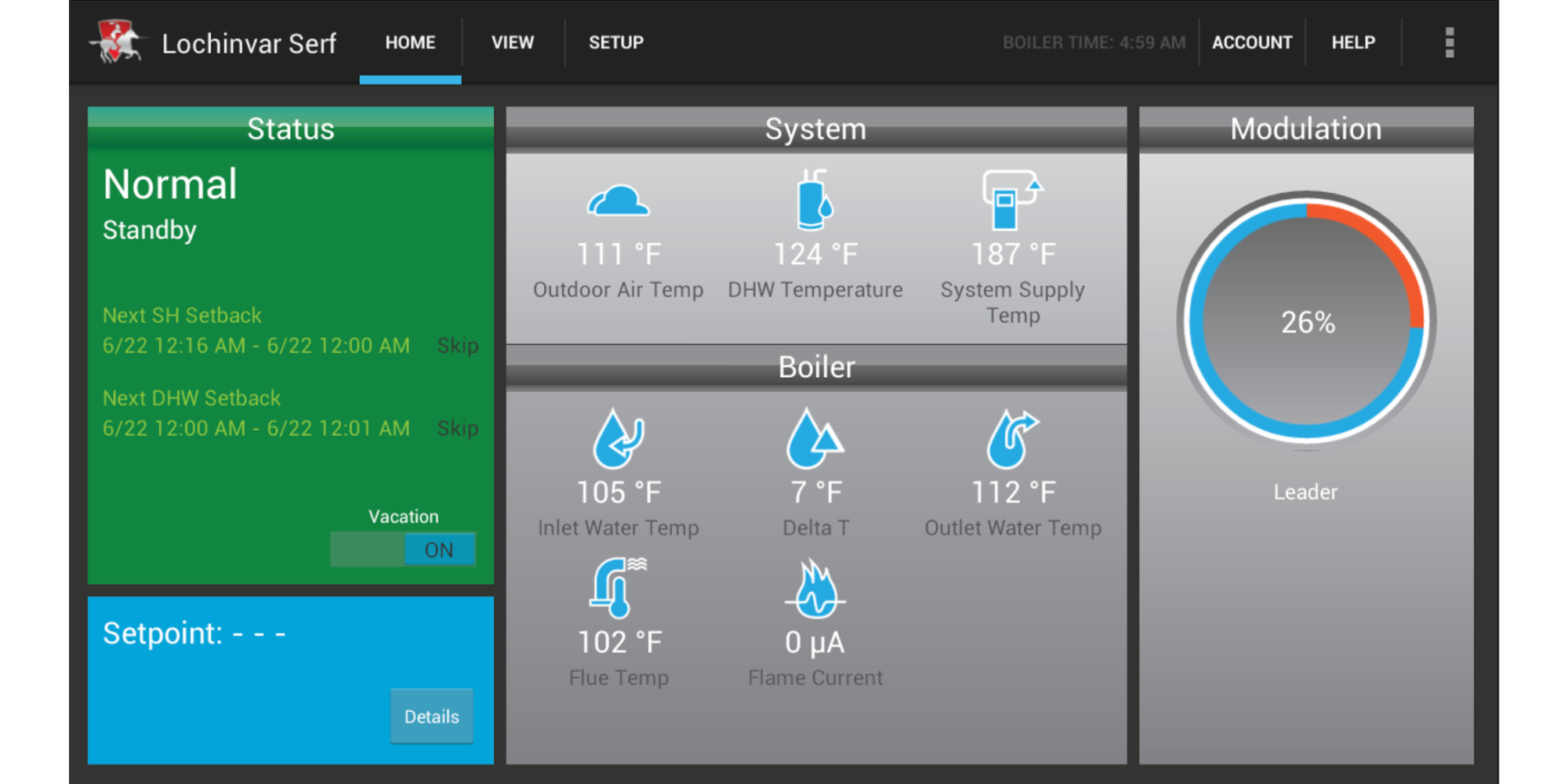 With cascade control, building managers can use the smart touch panel to control up to eight boilers and eight water heaters to work together as a team.
"In a lot of commercial applications, it is the common practice to have multiple boilers and multiple water heaters," adds George. "For example, in a hotel, you should never run out of hot water. So they wouldn't have one water heater, they would have multiple water heaters. Getting the water heaters to work together as a team is by far the most efficient way to work. The Knight and the Armor are able to communicate fluently with the building management system."
Water Heating Designed for Contractors
When it came to updating both products, Lochinvar listened to the concerns of contractors. The feedback brought them to this next level of innovation.
"We hear all the good things contractors like about our products," says Rettig. "And we also hear where we can do better. So we incorporate that feedback into improving the product."
Some of the improvements include streamlining the piping to come off the back of the unit to allow for zero installation clearance on the side and a smaller footprint.
"Not only did we listen to their installation concerns, but we also increased the features to make it easier to sell. We wanted to make the contractor's experience better and provide them with a better piece of equipment to offer to their customers. We took everything we heard and put it into both projects."
Offer the Best in Hot Water Solutions
Lochinvar has taken both the contractors and the end customer's needs in mind with this latest generation of Armor water heaters and Knight XL boilers. Shop Lochinvar any time on Wolseley Express, or talk to a sales representative at your local Wolseley branch.
---
To stay up to date on Lochinvar products, be sure to sign up and become a Wolseley PRO. You'll get the latest tips, promotions and more sent straight to your inbox
To learn about the latest products, training, and upcoming webinars for all Wolseley products, visit our Knowledge Hub. To learn about the hottest deals, events and Wolseley promotions, subscribe to our email list today.