Wolseley PRO Pipeline Blog
As the seasons change from winter to spring, with unpredictable and accumulated precipitation, there's an increased risk of flooding for homeowners. Wolseley spoke with Steve Ritsema, the Regional Manager of Liberty Pumps, a leading pump and sewage company out of Bergen, New York, on the topic. The aim: to learn how to prevent and reduce late winter and spring floods with backup pump technology and help contractors approach customers with backup pump options.
"One of [Liberty Pumps'] initiatives is to offer the best products on the market," says Steve Ritsema. "And one of the big categories is what we're talking about today, which is different types of backups, sump pumps."
Liberty Pumps offers a range of backup sump pump solutions, from the traditional economy battery backup, pumps to the more heavy-duty systems and innovative water-powered systems.
Economy 441 of Battery Backup Pumps
At entry-level, the economy battery sump pump has a lot of options on the market. Liberty Pumps has the 441 series that's great for basic household needs with a check valve, switch and electric systems to turn the pump on, as well as a trickle charger that plugs into the wall.
But for added protection, it's important to have an enhanced system that can do more, because, let's face it, most people forget to check the battery in the economy battery backups.
Enter the 442 Series.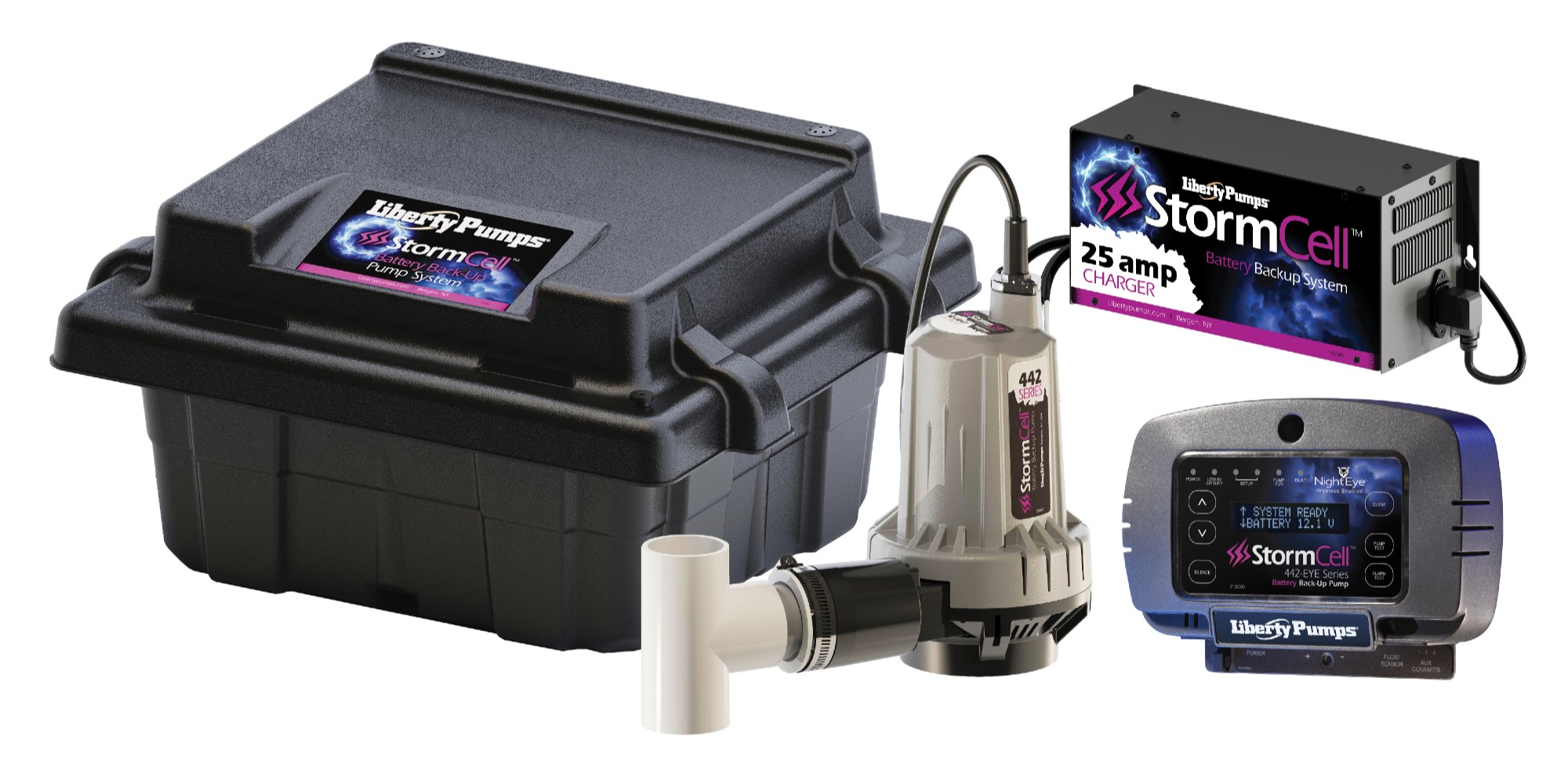 Heavy Duty 442 Series of Backup Pumps With NightEye
"The 442 series has several features that the economy series doesn't have," notes Ritsema. "The number one feature — it has a heavy-duty charger inverter." This technology allows the battery to charge faster at a higher amperage, getting homeowners the battery back up much quicker.
But there's another great feature to highlight. Inside the heavy-duty charger is the inverter, which goes into the wall socket to determine if the backup pump is needed because of a power outage or because of a pump outage.
"Roughly 70% of the time, it's actually the pump letting you down, not a power outage," says Ritsema. So in this case, the inverter can take AC power and convert it to power a 12v DC pump indefinitely. Instead of a small window of battery storage, it's able to continually run.
There's also a separate NightEye alarm panel with this system that can be mounted to a wall. It has a plethora of features so homeowners can check how their sump pump is running and the voltage meter, but there's also an alarm built-in for added protection, and of course, Wi-Fi connectivity with the NightEye for the tech-savvy. With NightEye "it's going to let you know when there's an issue...you'll get texts and emails, and your neighbour, your son, or even your plumber can also get the texts and emails."
Water Powered Backup Pump With NightEye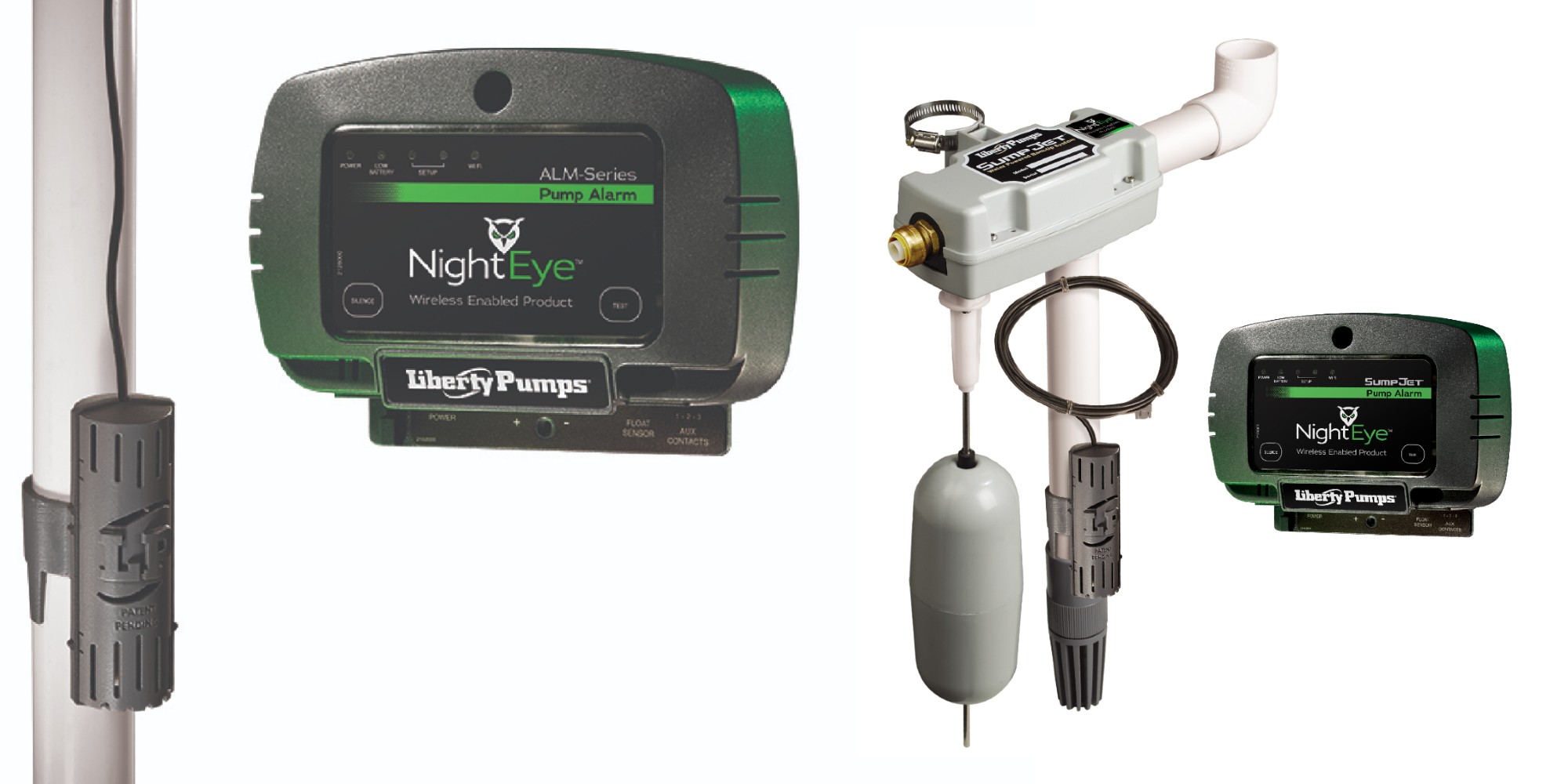 Liberty Pumps NightEye Indoor Wireless Enabled Alarm (LIBALMP1EYE)
Water-powered pumps are the latest and greatest innovation from Liberty Pumps in terms of backup protection. Contractors can get the basic model or the model with the basic alarm, or upgrade to an alarm that connects to the NightEye panel on a wall.
"You clamp it onto the same pipe as your sump pump discharge pipe and set it so its float is a little bit higher than the sump pump float. So, the sump pump's working away below, but if it ever stops for whatever reason, you now lift up the water-powered pump float."
Having the reliability and control of the resource that is responsible for flooding is a beautiful innovation that only needs water pressure and the right discharge pipes to work. It's a great solution for contractors in cities that have good water supply and are prone to flooding.
"It works better in the virtue that it doesn't have a battery and it doesn't rely on any electricity," says Ritsema.
Talk About Past Floods or Risk Factors
Something contractors may struggle with, is how to sell customers on better flood prevention devices like the ones Liberty Pumps offers. When asked how contractors can be more comfortable with it, Ritsema says, "It gets down to a level of technicality where a contractor is comfortable and understands [the technology of the pumps and NightEye]. They also need to convey the importance and decreased risks to the homeowner so they can also understand."
But the pushback is sometimes on price. That's when contractors need to get homeowners thinking about past floods and the money that goes into repairing after a disastrous flood. Homeowners tend to go for the lowest cost battery backup system, which is fairly reliable for the average area, however, there are areas where there are frequent floods. That's when it becomes an insurance risk and homeowners need for a better system, increase.
"People realize they need to spend more money, especially if they have that finished basement and live in a flood-prone area...Those concerns come into play because expenses add up."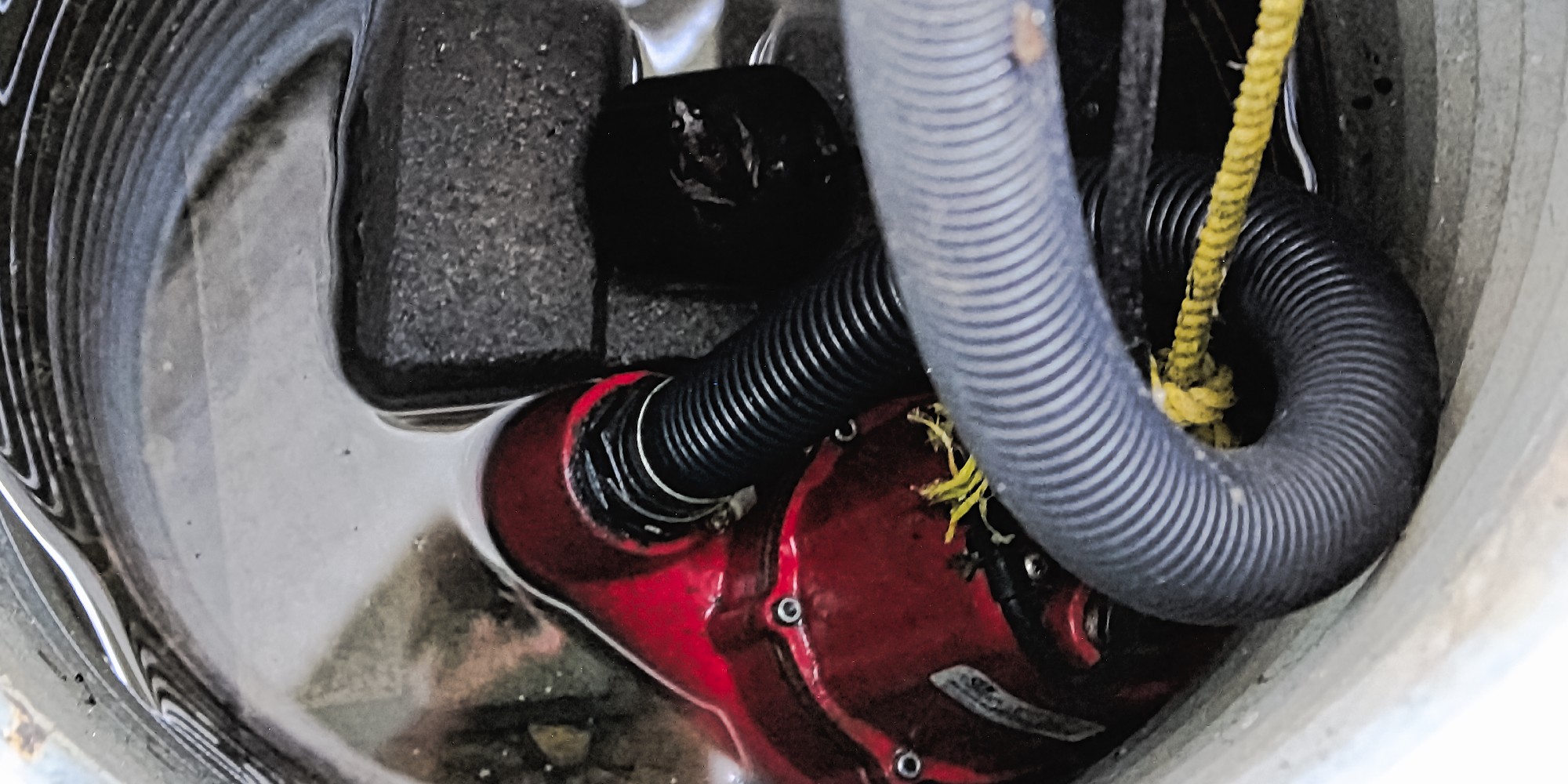 Standing By Product Quality and Innovations
Of all the innovations Liberty Pumps brings, quality is in every product. "The 442 pump series is not made in China," concludes Ritsema, proudly. "We make it ourselves in our factory. It has a better check valve, it has anti-airlock build in, which other ones don't."
With heightened product quality assurance, it's easy for Liberty Pumps to back their products with a warranty. Liberty Pumps has a 3-year warranty from the date of installation on products. There is also technical support and trouble-shooting over the phone for both homeowners and contractors.
Learn more and shop all Liberty Pumps products on Wolseley Express.
---
For more of the latest information on upcoming and innovative technology, sign up to be a Wolseley PRO. You'll get business tips and product information straight to your inbox.