Wolseley PRO Pipeline Blog
Providing smart home technology services makes your business a one-stop shop solution for all your customers' needs while keeping your HVAC business busy during seasonal highs and lows. Smart thermostats are great products for your customers to control their home's heating and air conditioning. In addition to helping homeowners save homeowners money on energy bills, smart thermostats make controlling their home's temperature easy.
What do smart thermostats do?
Smart thermostats offer more control over a home's climate, with several settings that can be managed from any smartphone or internet connected device. Their smart technology adapts to a homeowners' schedule by learning what temperatures are preferred for certain times of the day.
The latest trend is smart thermostats for multiple zones. In addition to controlling heating by day and time preference, these thermostats can control the temperature in different zones throughout a home, set by the homeowners. For example, one may prefer their bedrooms to be warmer in the winter at night while the kitchen and living room can be left at a colder temperature, staying warm in the night and saving on energy bills.
Smart thermostat features
Smart technology is constantly evolving to enhance customers' day-to-day lives. Here are some of the most sought-after features of smart thermostats on the market today:
Geo-fencing
Some smart thermostats have the ability to track homeowner's locations, changing their climate according to whether anyone's home or not. This can save homeowners money on their energy bills when they're not home.
Mobile apps
Smart thermostats use mobile apps with 24/7 remote access. This allows homeowners to monitor and control their home's climate even when they're away.
Voice control
Many smart thermostats use a virtual assistant like Google, Alexa or Siri, allowing homeowners to change the temperature using their voice.
Notifications
Homeowners can always feel confident knowing what's going on with their home's climate thanks to the notifications that smart thermostats send right to their phones. Alerts such as abnormally low temperatures or that it's time to change the filter help homeowners prevent unnecessary problems.
Automatic temperature changes
Another feature of top smart thermostats is the ability to learn homeowners' behaviour to automatically change the temperature according to their routine.
What to consider when choosing a thermostat
Choosing a smart thermostat over a programmable thermostat has many benefits, including special features for convenience like geo-fencing, the ability to use mobile apps for climate control, and, of course, energy-efficiency. But not all smart thermostats are the right fit. Consider these factors before recommending a smart thermostat to your customer:
Your customer's needs and budget
There are smart thermostats with incredible high-tech features, but not everyone is looking to spend more money on features they don't find necessary. Find out what your customers are looking for and show them their perfect fit.
Existing HVAC system
Not all smart thermostats support all types of HVAC systems. Find out if your customers need a smart thermostat that supports two-stage heat pumps or if they have separate heating and cooling systems. Recommending a smart thermostat compatible with your customer's current HVAC system will save you and your customer time, something you'll both be thankful for.
Wiring
Before suggesting a smart thermostat, you're going to have to know what kind of wiring your customer's current thermostat has. While most programmable thermostats with only two low-voltage wires, all new thermostats require a C-wire for continuous power for displays and wifi. Knowing if your customer will need a C-wire will allow you to calculate the added work into your time and budget.
Highest-Rated Smart Thermostats
As an HVAC professional, customers look to you for advice on which thermostat is best for their lifestyle and home. Here are some of the highest-rated thermostats on the market today, with key features your customers will love.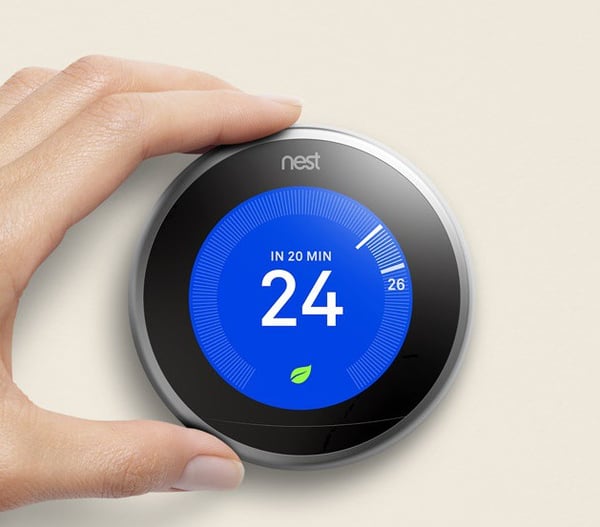 Nest Learning Thermostat
The Nest Learning Thermostat was the first thermostat to get ENERGY STAR® certified. Its smart technology is highly praised for its capability to learn from its owner's preferences, eventually adjusting its settings without any guidance, automatically adapting to your clients' lives and the changing seasons.
Key Features
Learns a homeowner's preferences and uses automatic scheduling within one week of being installed.
Saves an average of 10% to 12% on heating bills and 15% on cooling bills, according to independent studies
Compatible with other Nest gadgets as well as third-party products like Amazon Alexa and Google Home
Uses sensors and a phone's location to check if nobody's home, then sets itself to an Eco Temperature to save energy
Can be controlled even when away from home, plus sends alerts to homeowner's phones if there's something wrong – like temperatures are so low that pipes could burst
View the Nest Learning Thermostat on Wolseley Express here.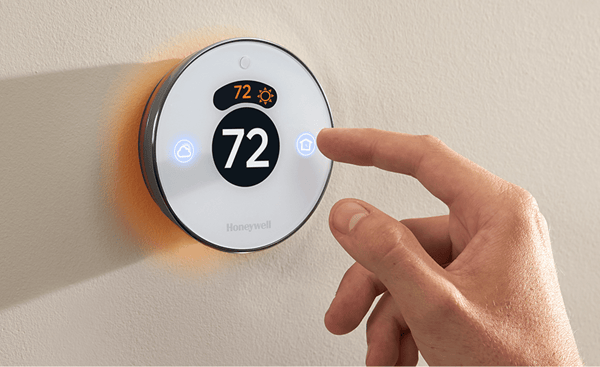 Honeywell Lyric Round Smart Thermostat
Honeywell's Lyric Round Smart Thermostat is a smart thermostat option that comes from a trusted company with a history of reliability. A major benefit of the Lyric is its notification system. It will notify homeowners when their system needs maintenance, which could lead to continued business for your team.
Key Features
Option to control the thermostat on your own off a mobile phone, even when away from home, or to let the thermostat automatically control the climate
Syncs with most major voice assistants, including Google Assistant, Samsung SmartThings, Amazon Alexa and the Apple HomeKit
Informs homeowners of extreme weather conditions, giving them time to take precautions providing optimal energy efficiency
As a Honeywell product, it's compatible with a number of indoor air quality accessories, including dehumidifiers, humidifiers and UV air filters
ENERGY STAR® certified
View the Honeywell Lyric Round Smart Thermostat on Wolseley Express here.
---
Visit your branch or shop online on Wolseley Express to find a variety of programmable and smart thermostats to meet your clients' needs.
Want more tips, promotions and Wolseley news? Sign up to be a Wolseley PRO today.