Wolseley PRO Pipeline Blog
The lack of foot traffic through workspaces and commercial buildings is a widespread problem, directly influenced by the pandemic. What was once a dynamic gym, a bustling office, a lively dormitory or a public space for communities, is now a place that's more empty than usual. With closures and reduced capacity, many of these places may have little to no pedestrian traffic for extended periods.
So what happens when these places reopen? In addition to the need for improvements in HVAC for air quality purposes, there are also water safety issues to address before people begin using the plumbing.
When pipes aren't used for an extended period of time, harmful organisms, like Legionella, and minerals like copper and lead, accumulate in the stagnant water. This poses a hazard for employees, guests and residents of these buildings as they use plumbing systems.
With smart technology from companies like Zurn, and some general maintenance to prevent contamination and improve water quality, you can help keep customers and clients safe as they return to these buildings.
The Most Immediate Line of Plumbing Defense
In advance of people returning to the building, it's highly recommended that a plumber flushes out the building's water system at all points of use. As you do this work, you may detect an odour. If you do, continue to flush the water through a few times until the odour dissipates. Assuming your building is doing a staggered re-entry of all occupants, you may need to perform this a few times to ensure optimal results and safe water use.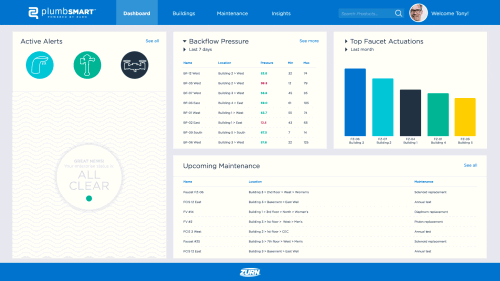 Perform Maintenance Checks
As you're flushing out the pipes, you can also check on pressure-reducing valves and backflow preventers to ensure there isn't water or debris accumulating. This is especially true for steel-on-rubber elements. Take a look at strainer screens as well. Strainers will catch any debris and sediment, so they do need cleaning as part of the flushing protocol.
Lastly, to minimize any bacteria from aerosolizing, clean out the flow controls and aerators in the system. Consider making the switch to a laminar product.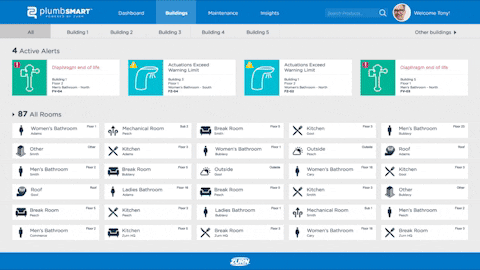 Make Smart Changes with Zurn
By choosing smart or IoT-enabled technology, you and your clients can monitor water usage, set up water alerts, and track water trends. Technology like the Zurn plumbSmart, does exactly this.
For example, with plumbSmart you can install sensor faucets to turn on once per day to purge water lines and keep water maintenance on schedule. You can also enable your customers with insights into their plumbing with real-time alerts to any leaks, performance issues or system maintenance needs in their building. With this innovation, you're giving customers the power to optimize their building's performance and free up their schedule for other tasks beyond water maintenance.

Zurn thermostatic valves on Wolseley Express
Temperature Control and Bacteria Control
Keeping water users safe also extends to temperature and bacteria control. Although hot water is helpful with challenging bacteria, like Legionella, it's not ideal for handwashing and can lead to more accidents than good. To take control of this, ensure there is a thermostatic valve to control the heat of water at the source of use, instead of at the water heater.
By installing a thermostatic valve, you will:
Help stop bacteria growth before it reaches the point of use
Decrease the amount of water wasted waiting for the right temperature,
Prevent the user from scalding their hands,
Enable the building manager to make economic upgrades for larger impact
Reduce Legionella Risks with Water Control
As a naturally occurring bacteria in freshwater, Legionella can be quite hazardous to humans. Legionella can grow in large plumbing systems, and most people who breathe in the aerosolized contaminated droplets can get a lung infection: Legionnaires' disease. Typically, Legionanaires' disease is treated with antibiotics. With that said, it does become fatal for approximately 1 in 10 people.
By having a consistent temperature of 140° F in hot water heaters at all times, the potential for Legionella growth decreases. This, paired with temperature control, ensures users are comfortable and safe every time they access water sources.
Stay Proactive With Zurn
As you work with your customers, keep these proactive approaches to water safety in your conversation. Talk through the process of flushing, maintenance checks and the integration of smart technology like plumbSmart to keep their buildings safe.
---
For more information on Zurn's range of water control and connected products, visit the Zurn Canada website or view these water control products.