Wolseley PRO Pipeline Blog
While there are plenty of inexpensive sump pump models on the market, don't let a homeowner miss the opportunity to build a superior new line of defence that will better protect against flooding and provide 10-15 years of worry-free, dry basements.
Begin by
carefully assessing and understanding your client's needs
to determine how you can effectively offer a range of choices to help design a system that provides the best service for their respective budget. Not all basements are equal. You could have a dry and unfinished basement, or you could have a high water table in a finished basement, that is very active in the springtime. Then take it a step further and create tiered pump solutions with add-on accessories for your customers.
Pumps With Alarms and Alerts
An alarm is a very basic, but crucial accessory for any sump pump system. Homeowners can purchase inexpensive alarm systems that run on AAA or AA batteries, however, these systems don't offer reliable protection for a myriad of reasons— batteries die quickly or they may tip over, and homeowners rarely remember to check on them.
Instead, a proper pump alarm installed in the pit offers more features and better protection, like the alarm systems from Liberty Pumps. "The alarm is much louder," says Steve Ritsema, National Sales Manager at Liberty Pumps. "A bright LED light ensures you notice it when it goes off. With a proper float switch in the pit, it won't tip over or malfunction."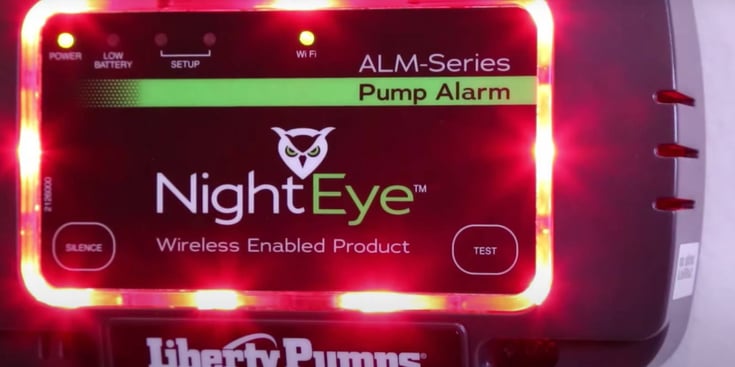 Liberty Pumps also offers the WIFI-enabled NightEye® alarm that comes with extra upgrades to create an early warning notification system for the ultimate protection. When a warning sensor is triggered to indicate pump failure or rising water levels, NightEye notifies the homeowners via text and email messages that may also be extended to important contacts such as family members, neighbours, or their plumber. Customers will feel safe knowing their home continues to be protected when they are not on the premises.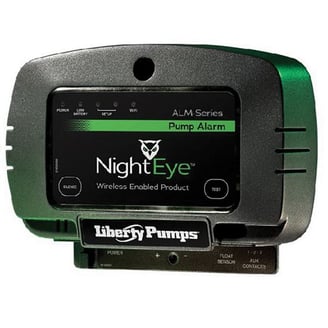 The NightEye goes beyond warning sump pump failures by including a thermometer that can alert the homeowner if the furnace stops working and the temperature drops below a programmed threshold. Additional accessories, like floor or puddle sensors, and different float types, can alert the homeowner to an overflowing laundry machine, a water heater leak, or sewer backups. So, it protects your whole basement.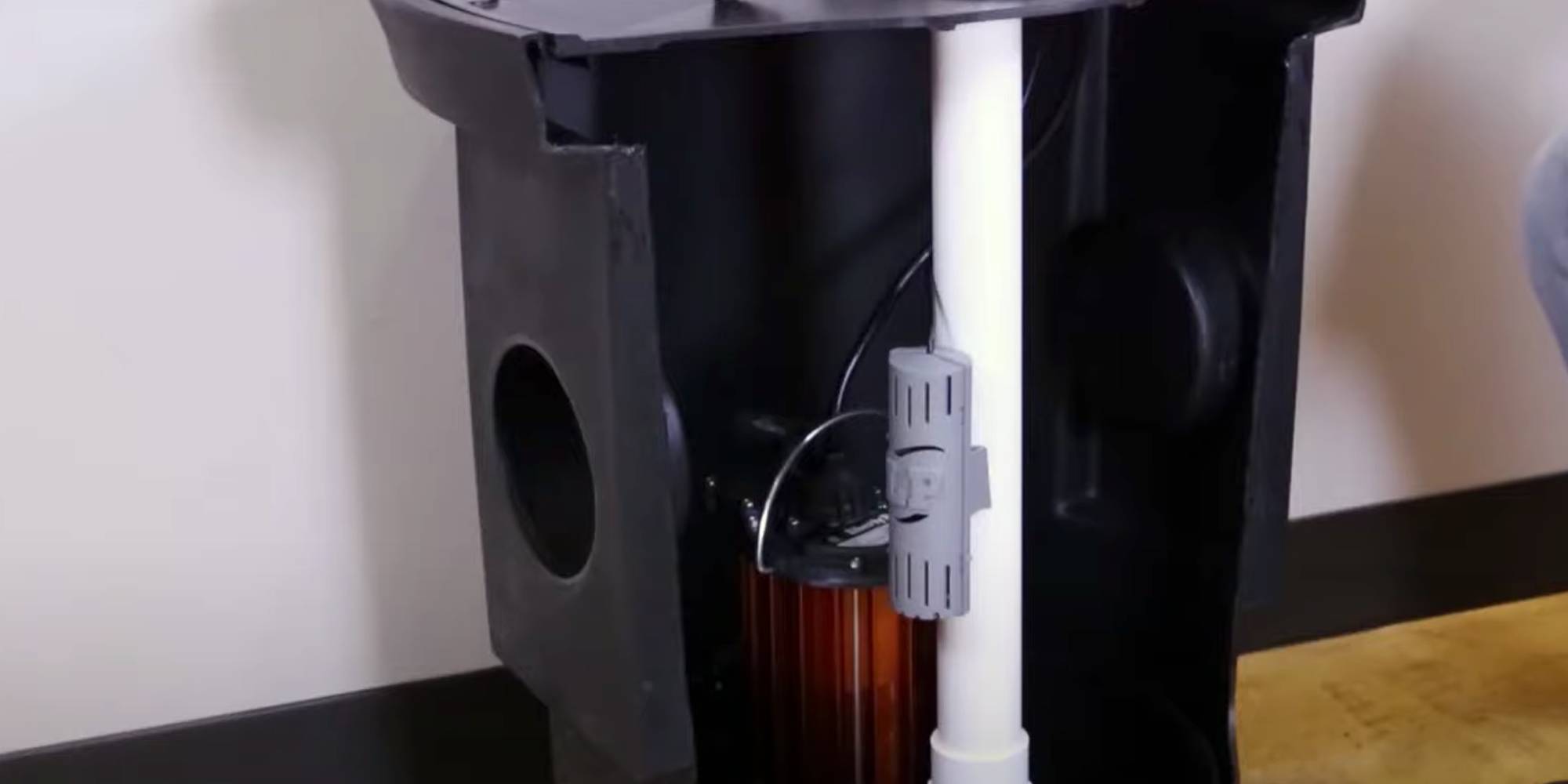 Have a Sump Pump? Back it Up!
While an alarm is critical to inform you of a sump pump failure, a flood can happen quickly before you can take immediate action. "Even if you have a high water alarm, you need a solution," remarks Steve. "You're not going to go down there with [a] jug and bail out your basement. That's why I always recommend having some sort of backup system."
The basic solution is an emergency, battery-powered backup pump that turns on when the primary pump has failed, or the power goes off, sounding the alarm.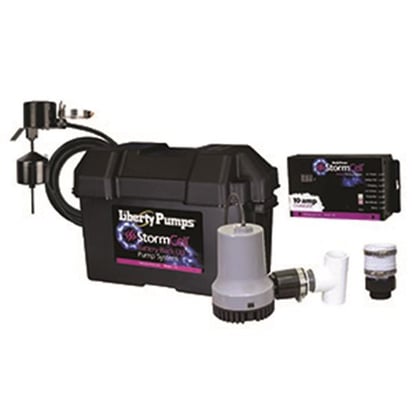 Shop Liberty Pumps StormCell Emergency Pump System
These battery backup systems are duplex too. So, both the primary pump and a battery backup can run in unison if the primary pump can't keep up during a flooding event. Some upgraded versions can even detect if power is still available (not a power outage). In this case, they use a built-in inverter that converts 115 volts to 12 volts to run the backup pump. This can greatly extend the life of the battery, from just a couple of days of backup pumping to potentially weeks.
In the toughest groundwater cases, the best system may be a commercial-style duplex system, with two large primary pumps, and a control panel, that has a built-in alarm. You have a backup pump that will turn on automatically if your primary pump fails. These are alternating systems that run both pumps evenly where cycle A runs on one pump, and then cycle B runs on the second pump. If one pump fails, the other takes over. Also, if one pump cannot keep up to inflows, it will run both pumps in unison, for double output. Many times, these systems will have a larger tank with more storage capacity. Also larger horsepower pumps, for high output.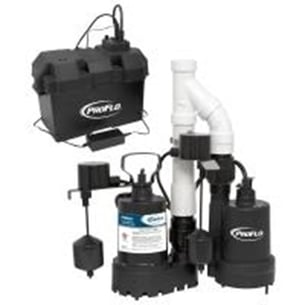 Shop PROFLO Pre-assembled Primary/Backup Sump Pump Kit
Customers Can Experience Insurance Rewards
With the increase in claims for water damage, many insurance companies are providing incentives to homeowners to prevent floods. As these companies move towards reducing coverage for flooding after the first incident, they're also offering homeowners breaks on their monthly premiums if they have added protection. Accessories like alarms and backup systems may mean significant reductions, which can mean the equipment pays for itself in the space of a year.
Homeowners have more options than ever before for protecting their investment from the damage that can occur when a sump pump system fails. To learn more about the ways to configure a sump pump system to fit any budget, talk to your Wolseley representative today.
Be sure to also shop our Spring Pump Deals for more from Liberty Pumps and other top brands.
---
To get all the latest news about trends and technologies in sump pumps and wastewater management, be sure to sign up and become a Wolseley PRO. You'll get the latest tips, promotions and more sent straight to your inbox. If you want to learn more about products, training and upcoming webinars from products Wolseley carries, visit the Knowledge Hub.
To learn about the hottest deals, events and Wolseley promotions, subscribe to our e-mail list today.